It is no surprise that ecommerce is still on the rise. The ecommerce landscape today is almost unrecognizable compared to a couple of years ago. The percentage of consumers shopping online is increasing tremendously and according to Forbes, online retail sales as a percentage of total retail sales have skyrocketed to 35% in 2021. Just one year before, in 2020, online sales had already grown significantly to 19% of total sales. These numbers show the huge increase in online sales in the last two to three years. 
As you can imagine, there are massive shifts in consumer behavior and online retailers have to pull out all the stops to stay ahead of their competitors. It's not about selling a product anymore, it's about meeting and exceeding customer expectations. That's what modern commerce is about: Start building a future-ready ecommerce platform that's flexible, modular, and that scales with you. So what about headless and Composable Commerce? How does it help and what is the difference between these two? 
Headless commerce 
A very first, logical step towards a modern approach is going headless: a huge buzzword in ecommerce and an eye-opener for fast-growing online retailers that encounter limitations in their ecommerce setup. Headless commerce is the ecommerce approach by which the backend from a webshop is decoupled from the frontend, which means that the frontend is a stand-alone application. By doing so, it helps ecommerce merchants to innovate faster on the frontend and to deliver compelling, high-quality experiences.
Better performance: Improve website performance with headless PWA technology for a better, faster, more agile, adaptable shopping experience. 
True omnichannel experience: Deliver best user experience on any sales channel, whether it's on desktop, mobile device, tablet or any other touchpoint. Headless commerce enables online brands to build new experiences at any time. 
Highly customizable: A headless approach offers limitless potential on the frontend. Fully customize your frontend experience based on your business goals and needs. 
Flexibility and adaptability: The frontend is decoupled from the backend which makes it easy to make changes in the frontend without it affecting any other service in the backend. 
Of course going headless is a good first step towards a fully optimized ecommerce setup and it has many advantages compared to a monolith, but it's important to remember that these advantages only apply to the frontend of a webshop. Do you want complete freedom, flexibility, and scalability? Then it's a must to look at your backend setup as well. That's where Composable Commerce comes in: get complete freedom from frontend to backend and build your shop the way you want. 
Composable Commerce 
So, what if we also apply this strategy of decoupling for unlimited flexibility, scalability, and freedom to the backend of a webshop? That's what Composable Commerce is all about. It gives you complete freedom to select best-of-breed commerce components and compose them into a  fully customized ecommerce setup, adapted to your specific business needs. This approach unlocks unlimited flexibility, scalability, and it gives you full control over your business, from frontend to backend. This way organizations can deliver innovation and adapt more quickly to the ever changing ecommerce market.
Incredible user experience: Create supreme shopping experiences throughout the customer journey; from first touchpoint to an actual purchase. 
Vendor flexibility: Work with the software vendors and technologies that fit with your business needs. From the commerce platform of your choice, to a headless CMS, to your preferred payment service provider. Every combination is possible. 
100% future-proof: Create an ecommerce platform that's not only ready for today, but also for tomorrow. Not happy with a specific software vendor anymore? Not a problem! Your tech stack is clear and switching is easy. 
One source of truth for your data: Synchronize all your data seamlessly across the platform and all your channels within milliseconds.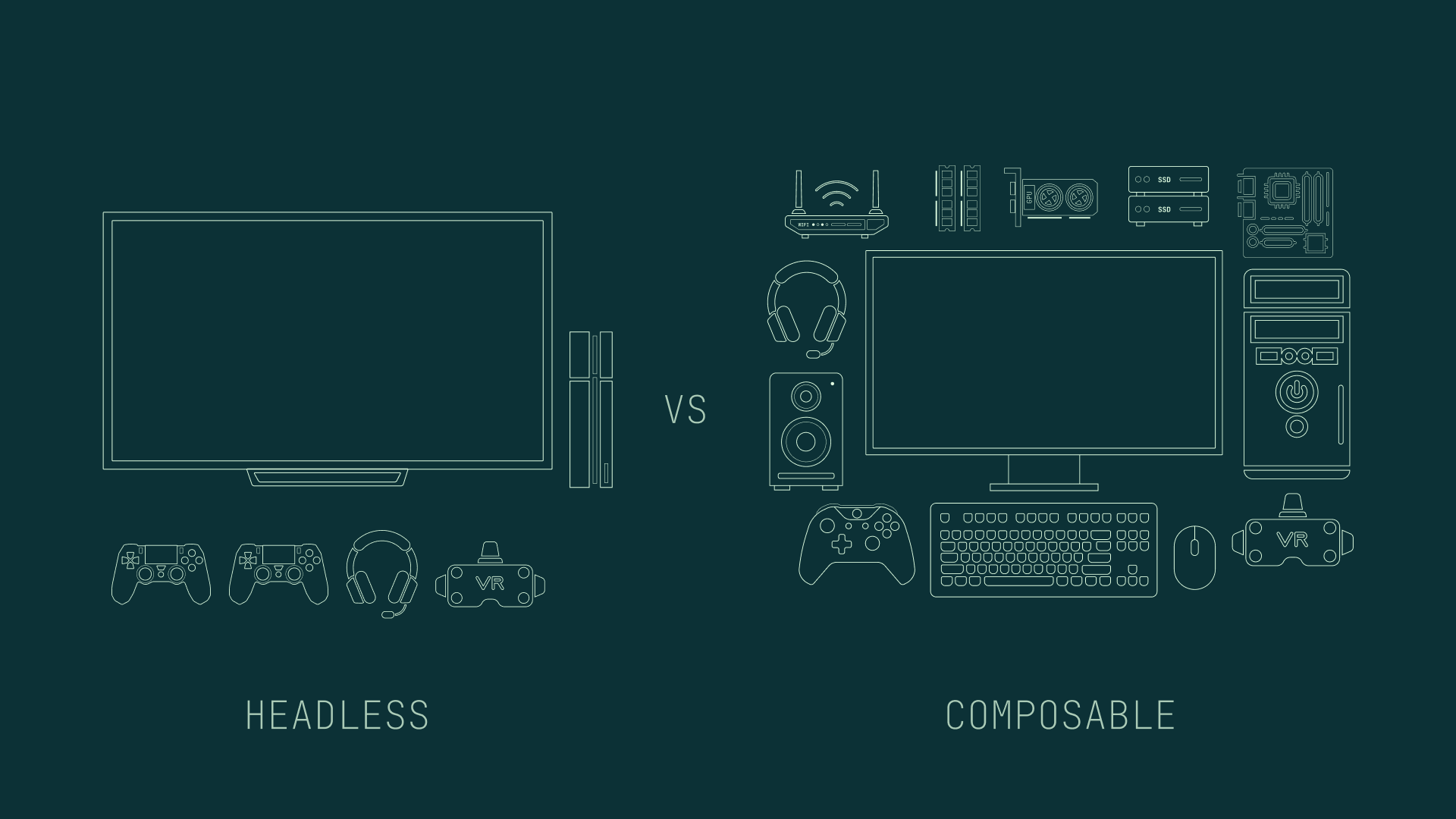 So, is your online business fast-growing, are you open to new technologies and are you looking for an ecommerce setup that is ready for the future? Then you should consider Composable Commerce. This service-oriented architecture gives you complete freedom to build the ecommerce platform your business needs, without adding complexity. Going headless with a decoupled architecture is a good first step towards a full composable setup and it gives you many advantages on the frontend side. Do you want complete control over your frontend ánd backend? Then it's time for Composable Commerce! 
How to get started 
At first glance, the switch to Composable Commerce seems to be a huge step for online businesses. However, it doesn't require a big bang replatforming. The advantage of this approach is that it's a process, you can gradually transition from a monolithic to a composable structure without throwing away all the valuable business logic you've acquired over the years. A good first step towards composable is headless. Start decoupling your frontend from the backend and when you're ready, take the next step. Start slow and keep on building the platform that your business needs. And the good thing about this best-of-breed world: Every player in ecommerce has its own focus and expertise.
Don't start building everything from scratch but stand on our shoulders. Contact us.