'Can I add multiple storefronts to my BigCommerce instance?' The answer has always been a bitter pill: No. This is simply not possible. Of course you can run multiple stores and use separate BigCommerce instances per store, but that requires setting up and maintaining all of those instances separately, which is very inefficient and time consuming. But not with DEITY! Our core business is to cater for use cases like these, in this case allowing multiple storefronts from one single backend. Why is this such a big deal? This leads to an enormous decrease in license and development costs and opens up new possibilities for amazing user experiences. In this blog we'll tell you everything about multistore and how this was implemented for a fast-growing American online retailer. 
Back to the basics, what exactly is a multistore? 
Multi-store means that you can control multiple storefronts from one backend. Manage all stores from one single database with full control over each store. Add and edit all your connections, settings and data only once, then share them across multiple frontends. You choose which frontend shows which information and uses which data. You only have one source to maintain. Add as many storefronts as your business requires, it's very easy!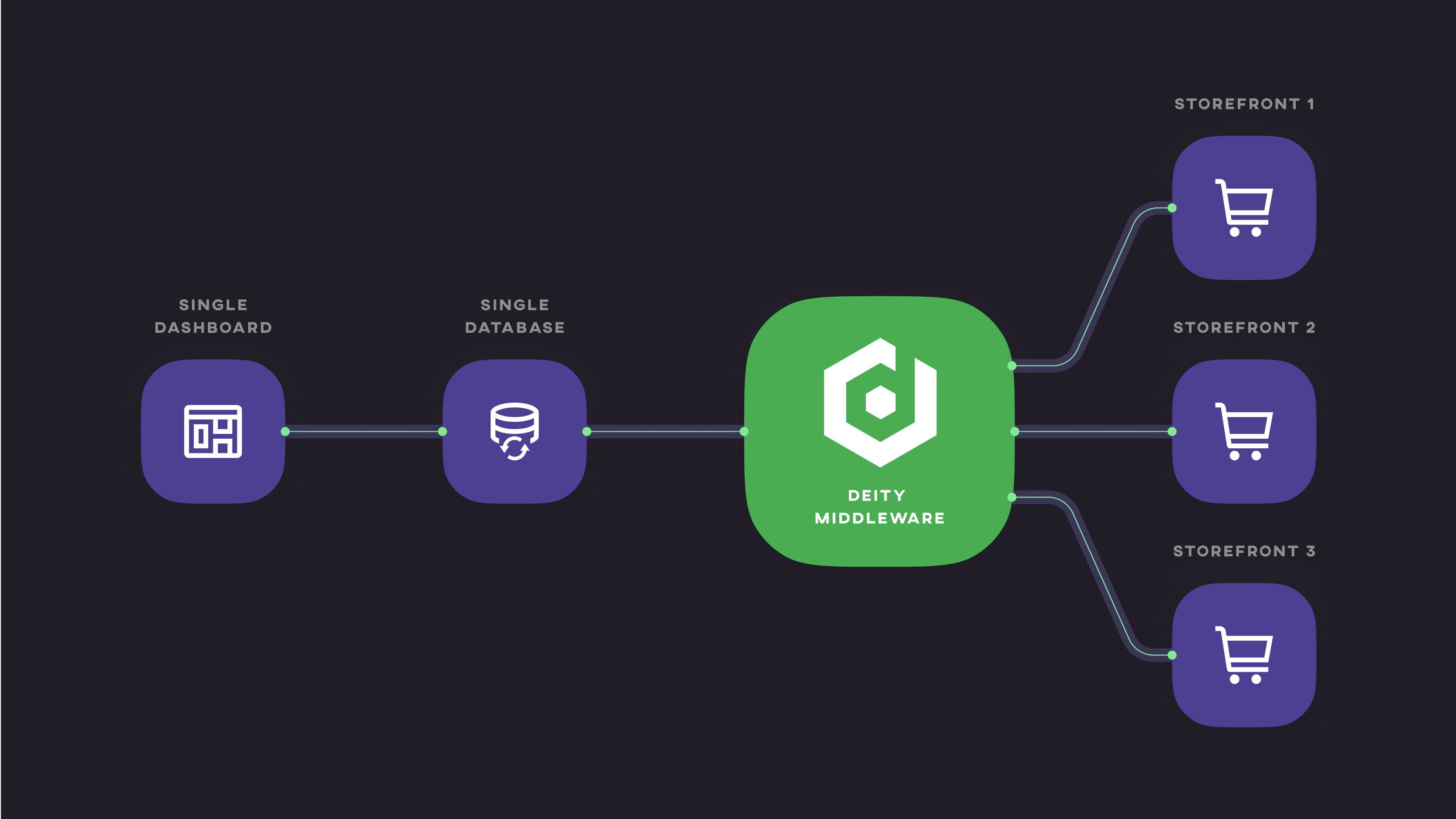 Benefits multistore 
You can imagine that multistore functionality brings along many benefits. I think the main benefit for all ecommerce businesses is that having multiple stores on one backend saves you an enormous amount of time in developing and maintaining your site. But also customizations play a huge role in this. You can completely customize your storefronts, that's where full multi-x comes in; it allows you to change the language, currency, country, warehouse and so on.  
All of these supposedly simple steps will have a positive impact on your SEO. If your site content is relevant for your visitors, they will likely stay, resulting in a decrease in bounce rates and therefore better rankings in search engines like Google. With multiple storefronts you're also able to improve SEO with internal linking, use your own stores to link to each other. And last but not least, the more storefronts you have, the greater your chances of having multiple listings on the first page of search results. 
I can hear you thinking: 'But how do I add multiple storefronts to just one BigCommerce instance if they don't have that functionality in their platform?' We made it possible for CONSORTIUM: an exclusive marketplace for customizable fashion and lifestyle brands. Read their story below. 
CONSORTIUM's success story 
CONSORTIUM is a brand and retailer marketplace where brands and retailers can transact, it's a technology for retailers who don't have ecommerce or who want to improve their ecommerce and who may not have a point of sale by themselves. 
So, what's important to mention is that CONSORTIUM doesn't use the multi-storefront functionality like most ecommerce sites do. Multi-store is usually used within a single company, but they are actually using the different storefronts for different companies. This means that each retail store within the marketplace has its own storefront that is being managed from the backend by CONSORTIUM. 
About one year ago CONSORTIUM was only helping physical stores but a number of events made them realize that moving to ecommerce would bring them dozens of benefits. They explored the options and possibilities for ecommerce platforms, best suitable for their marketplace. Which backend fits best with their goals? Which platform could give them what their business needs, including a headless PWA storefront? And most importantly: how could they build a multi-site platform, giving all brands and retailers their own storefront? That turned out to be the biggest challenge so far: finding an existing ecommerce platform that could pair with a really good headless PWA and at the same time support multi-site functionality. BigCommerce aligns with Consortium's business goals in many ways, especially their headless setup and prices fit best with CONSORTIUM's goals, but they don't support unlimited storefronts on just one backend. So the question is: which technology is able to connect to any major commerce platform in a multisite manner?
DEITY to the rescue 
They compared all major players in the field of PWA and Middleware technology and DEITY turned out to be the only solution being able to provide a really good headless PWA in a multi-site manner, directly integrated with BigCommerce. 
Sam Payrovi, CEO at CONSORTIUM says:
DEITY created for us a pre-packaged PWA that we could rely on. They diligently helped us with the integration and we can now lean on their team for continued development. It really has eliminated the load of building an entire front-end team to develop our own PWA from scratch.
Where BigCommerce requires a licensed instance per storefront, CONSORTIUM was able to connect and manage multiple storefronts on just one instance, paying only one BigCommerce license. This empowers them to use the platform of their choice without having to compromise on other points. 
What did it bring them: 
A super strong Middleware added to their webshop 

T

he ability to manage an unlimited amount of storefronts from just one BigCommerce backend, with just one BigCommerce license

A direct, out of the box, integration with BigCommerce 

A 100%

headless

PWA storefront 

Significant lower Total Cost of Ownership (TCO) compared to alternative solutions
The implementation of this project was completely done by Absolute Web, and what an amazing job they did! Sergiu Tabaran, COO at Absolute Web says: 
DEITY was the right PWA platform that directly integrates with BigCommerce and allows building multiple storefronts, which is essential to CONSORTIUM's business. But that's not all: we also implemented StoryBlok for content management, we created a completely customized checkout flow and we integrated price lists. Our developers are very happy with the DEITY platform, they're excellent in support and the flexibility is amazing!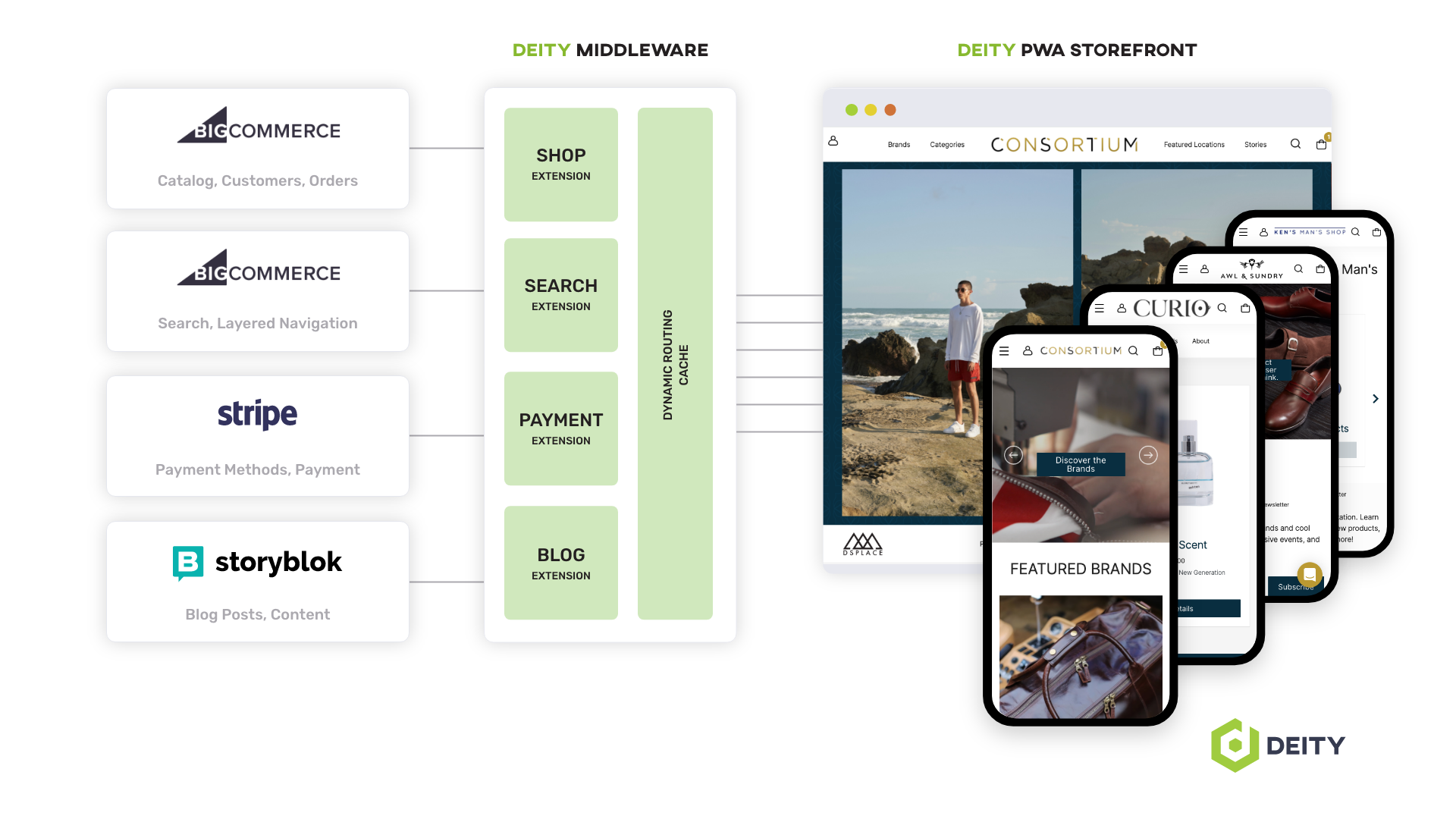 Why it was a success
Well, first of all the solution gave them the possibility to pursue their goal: to build a headless, multi-site ecommerce marketplace for brands and retailers. One of the reasons for the success of this project was the tremendous decrease in ecommerce costs. Instead of needing a separate BigCommerce license for each storefront, CONSORTIUM was now able to achieve their goal with just one license covering all their storefronts. Time to market and ecommerce costs like the total costs of development, management, and support were significantly lower than alternative options, due to more efficient development. Altogether, the total cost of ownership (TCO) is expected to be much lower than with any other solution. 
Simultaneously, the company is seeing huge increases in traffic each week. CONSORTIUM's webshop was launched a couple of months ago and in two months time they've seen their traffic grow exponentially. An amazing result! Besides, they've seen conversion rates like never before! 

Ready for multi-x? 
At DEITY we do not limit ourselves to multistore, but rather support full multi-x functionalities. Multistore, multi currency, multi language, multi everything. You name it, we've got you covered! Are you ready to take the next step? We're here to help you make your ecommerce dreams come true.
So reach out to us, we're here to help! Contact us